My Beginnings
I was born and raised my whole life in Singapore, where I spent my a majority of my childhood moving from neighbourhood to neighbourhood before my family settled in Khatib. At the time, I had litle to no exposure to photography. The idea of taking photos both as a hobby and as a job hadn't even crossed my mind, so looking back on my life, it was truly a big change for me when I discovered photography....
Photography and Me
I was first introduced to photography through my brother and my ncle, who were and are still enthusiasts of photography. Ever since then, I felt a special fondnes to it, and I eventually started dabbling with photo-taking and editing in my later years in Primary school and into Secondary school. Needless to say, I joined my school's Photography club, which was filled with like-minded people like me wo shared a passion for photography like me. I participated in quite a few junior-level competition before trying to enroll in School of Photography Singapore. And the rest is history.
Learning how and why
The aspects of which pulled me into the world of photography was how freely you were able to express yourself and convey messages through composing a picture. Take for example painting. Instead of using a canvas to bring your artistic creativity, the world itself with its environment is your very own canvas. This is to me the most interesting aspect of photography, and is the reason why I still love it to this day.
My family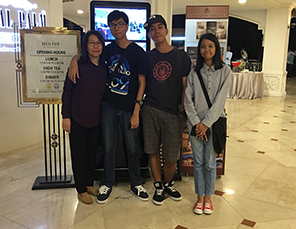 It could't be done without the help and support of my family, who were,of course wonderful people. Mom was initially skeptical of my my passion for taking photography as a profession, but she has always helped me when I was in a pinch and has contributed greatly to my career's success by simply being there for me. I would also like to thank my brother, Jauzan, along with my uncle, for introducing me to the world of photography. Liyana, my sister, you may be annoying at times, but I would also extend my gartitude to you for encouraging me to never give up when it comes to photography!
Hariz and the future
I would like to continue doing what I do best and what I have a passion for: photography. Many say, "Dream big!" or "Reach for the starts!". Personally, I have no intention of taking big strides without learnig how to walk first. With that being said, I would like to progress towards the future by continously improvong my skills; there is never a cap, a celling you can't break. Take it slow, and eventually you'll break past your limits.